CIC has 30 years of knowledge and experience working with all nuclear power plants throughout Spain.
We develop technological products and software solutions in order to optimize the operation and maintenance processes in the Nuclear Industry.
At the same time that nuclear facilities invest and maintain their equipment, CIC projects and teams continually stay up-to-date in order to improve its services for nuclear industry.
From the beggining of the company, we have focused a large part of our activity on the nuclear industry.
At CIC we have extensive experience developing software solutions covering the entire value chain of nuclear energy production.
CIC bespoke developments for nuclear industry
Regarding IT management for the nuclear industry, we offer solutions such as document management systems, digital signature, development of internal communication tools and employee portals, processes automation and reports, Operational Intelligence, AI, and Business Intelligence. In addition, we develop tools for supply management, presence control, fire protection management, GAR and RETEN.
From CIC, we provide consulting services, which include In-Service Inspection Manual (MISI), maintenance rule, Corrective Action Programme (PAC), asset management (future investment programming), warehouse management, operation rounds, turbine, firefighters, etc., besides of developing of monitoring tools, surveillance requirements, dosimetry and plant planning, and plant maintenance.
CIC Systems and Safety in nuclear power plants
At CIC we are experts in information security management, information asset management, controls and threats. Also, we help nuclear sector companies comply with standards and regulations and training and employee awareness campaigns on safety. In addition, we development contingency and business continuity plans.
Critical Infrastructures Cyber-security
For companies in nuclear sector, we provide services for network security and In perimeter network security: Firewalls & Unified Threat Management (UTM), Web Application Firewall (WAF), Industrial security: Data-diodes, Industrial Firewall and Network Access Control (NAC). We offer Cyber Defense and Monitoring tools through Unified Security Management: SIEM, inventory and management of vulnerabilities in assets, network and host IDS (AlienVault) and SIEM and systems integration (W6 Datasense).
We manage End Point security through antivirus and End Point Security against Advanced Persistent Threat (APT) and Secure Access services (SAS) with desktop virtualization and session auditing.
Design of OT Cyber-Security MasterPlan
We help companies to prevent and reduce vulnerabilities and respond faster and smarter to cyber-attacks designing OT Cyber-security Masterplans. We offer identification, definition and prioritization of a set of cyber-security projects in the OT area, aimed at reducing the threat risks of industrial plants to acceptable levels by the organization and always starting from an initial situation analysis.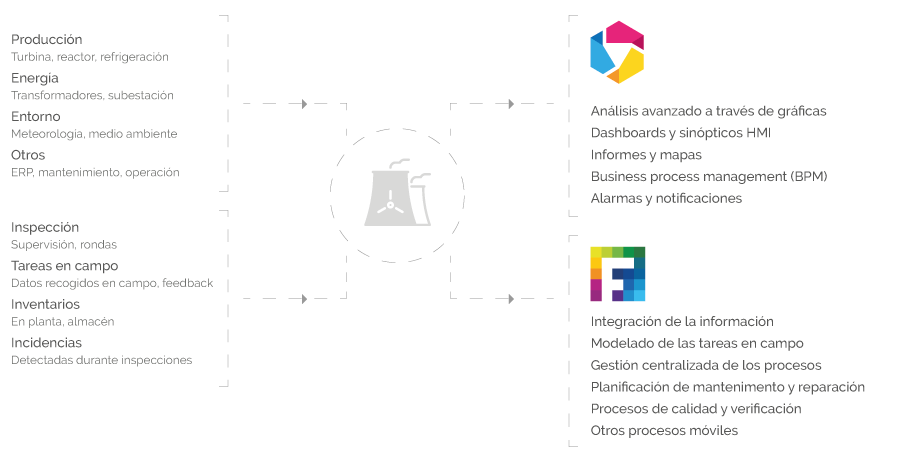 CIC and its commitment to Digital Transformation of Nuclear Industry
As an example of CIC's commitment to the nuclear world, we are active members of the Cantabria Nuclear Industry Cluster (CINC), a business organization that was created as a meeting point between all agents of Cantabria nuclear industry sector.
CINC cluster has several committees, such as R&D+i, communication, internationalization CIC professionals actively collaborate in all its initiatives. Through the CINC, CIC participates in national and international fairs and events with the aim of keeping all our knowledge in the Nuclear Sector updated, expanding our experience and promoting the internationalization of nuclear plant processes.