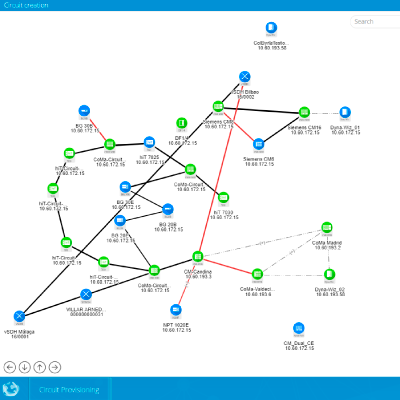 Traditional circuit-switched TDM telecom payloads such as SONET and SDH have become saturated due to increasing bandwidth demands, leading network operators to explore new networks such as packet-switched networks, most often Carrier Ethernet or IP/MPLS.
What is MPLS TP?
MPLS-TP is a premium packet-switched technology for industrial applications. While these networks are well suited for some types of operations, industrial network operators, such as power utilities companies and transportation systems, find that the combination of features offered by these systems is not sufficient for their needs. Fortunately, a newer version of MPLS has been developed: MPLS TP, which, along with a professional O&M tool, is better suited to the needs of these operators. Below you will see how the MPLS-TP standard adds functionality which makes the protocol significantly more effective, reliable, more familiar and "SDH-like" in its operation. It also eliminates many unnecessary IP/MPLS functions that cause needless complexity and cost overruns.
Bandwidth loads saturate circuit-switched systems
For decades, large high-speed backbone networks have been built with circuit-switched systems based on the time-division multiplexing (TDM) standard, which typically run the Synchronous Digital Hierarchy (SDH) or Synchronous Optical Network (SONET) protocols.
However, with the increasing demand for video, data and other bandwidth-intensive applications, the limitations of circuit-based systems such as SDH/SONET have become evident, making it difficult for many operations to expand to a packet-switched system.
Moving to packet-switched networks
With circuit-switched systems such as SDH or SONET, single dedicated circuits are usually earmarked for information traffic, regardless of whether capacity is needed or not, resulting in under-utilized bandwidth. Packet-switched systems are able to reinvent this function by splitting communications into separate small data packets that can search for available pathways to reach their destinations more efficiently. There, they are reassembled at the receiving end according to the header addresses.
The respective operational characteristics of a dedicated medium, such as a circuit-switched system, compared to a shared medium such as a packet-based system, was never a problem for many operations prior to the surge in bandwidth demand. The rise of wireless CCTV security streams in railway stations and continuous monitoring of operations in utilities, point to the benefits of a packet-based switching system; a must-have strategy for many organizations.
Initially, the two most common packet-switched options were Carrier Ethernet and Protocol/Multiprotocol Label Switching (IP/MPLS), the latter being the preferred choice because of its superior set of capabilities for the application to carrier networks, whose business is to provide bandwidth to third parties.
However, this solution has not been well received by power, rail, gas or water utilities, who have their own backbone networks. These companies see IP/MPLS as the only viable alternative, as no other option seems adequate to meet their operational requirements. In fact, many of the features used by SDH/SONET users are no longer to be found with IP/MPLS.
Additionally, the inherent complexity of these systems is not only generating increased costs and diminishing resources, but can be potentially detrimental for these types of operations. For instance, in power utility protection systems, false alarms can occur, often leading an administrator to manually reroute their communication circuits.
MPLS-TP – A new type of MPLS
There is a new packet-switched data alternative protocol that is uniquely suited to the requirements of this subset of industrial backbone operators. The Multiprotocol Label Switched Transport Profile (MPLS-TP) is a version of IP/MPLS that, while technologically similar, it has a very different set of features. In many ways, it is a customized version of IP/MPLS, eliminating features that industrial users are unlikely to use, while retaining or adding familiar features that make it more bespoke. MPLS-TP is a packet-based protocol option that provides its users, such as utilities and transport companies, with all the features they need, eliminating features that they don´t need.  MPLS-TP sets a new standard.  Its main objectives are: Allow MPLS to be easily implemented in a transport network and operate like existing transport technologies such as SDH and SONET.
Traffic engineering with static provisioning
In packet-switched networks, traffic engineering is the process of directing communications traffic flow on available routes finding the most optimized bandwidth. In the evolution of a single-channel circuit-based network, the switch to IP/MPLS increases the complexity unnecessarily due to the dynamic routing capabilities of the protocol. For each packet, IP/MPLS uses complex discovery algorithms to analyze alternative routes to determine how to get the message routed more quickly and when necessary, identify multiple backup pathways. Algorithms are constantly running in the background, searching for more efficient routes. This process may be more advantageous for more complex carrier networks, but not for single-user optimized industrial networks. In fact, the algorithms can be detrimental as they are sometimes unpredictable.
However, MPLS-TP provides static routing capabilities. The user defines a route for each of the service's traffic and the system tracks that route. This not only reduces the demand on system resources, but it also allows the user, who is familiar with the operational aspects of his network, to be able to strategically define the preferred or unused links.
High predictability, with bidirectional transmission and capacity to receive communications
In the IP/MPLS dynamic routing process, the system continually seeks optimal transmission speeds and routes.  However, receiving messages do not often follow the same path. While not critical for carrier networks, this feature can cause significant problems for networks. Thus, modern utility companies protect their transformer electrical network against electrical failures by using differential protection systems or differential relaying schemes, allowing failures to be quickly detected, isolated and repaired.
This strategy is undoubtedly one of the most critical communications applications within the public service power utility operations. It is based on the notion that transmission and reception routes are predictable and have the same delay. With this approach, the electrical parameters between lines are being constantly monitored, using a difference in delay between the transmission and reception paths. Maximum tolerances are set and if the difference is considered too large, in no more than a few microseconds, the imbalance is detected and the protection systems will be triggered and the power system will automatically shut down to avoid any possible damage. Since this differential is more probable with IP/MPLS, for reasons unrelated to the operation of the electrical system, false tripping can lead to unforeseen power disruptions or outages.
OAM "Replacement", resiliency and other well-known SDH/SONET features lost in IP/MPLS
It is well-known that circuit-switched systems are rapidly becoming obsolete in favor of packet-switched based systems. Many types of installations have found that IP/MPLS, originally MPLS, dramatically reduced the capacity of many circuit-switched systems (SDH/SONET); primarily the capacity to switch to an alternate data transmission path in less than 50 milliseconds if the main path were to fail. This rapid response time already existed in SDH/SONET and has become a standard benchmark demanded by many operators due to the importance of time-sensitive protocols in their networks. MPLS-TP maintains a switching time of 50 milliseconds recovery time, being even faster than in SDH/SONET networks.
Additional capacity is another major advantage in the operation, administration and maintenance (OAM) functions found in MPLS-TP. The protocol brings comprehensive OAM functions such as those available in traditional circuit-switched networks over packet-switched networks.
Circuit provisioning, a key factor to take into account when implementing MPLS-TP
An important aspect is how traffic provisioning is done on the network. It is how primary and redundant routes are created for each network service and how bandwidth is strategically allocated. Following in the same steps as IP/MPLS, many MPLS-TP vendors have opted to provide only one command line interface to perform this function. This requires logging in and working on one node, while simultaneously entering long strings commands.
Using a network monitoring and management platform (TMN) with FCAPS network functions, combined with SGRwin8, MPLS-TP device manufacturers offer a GUI-based system, with visual building blocks and a graphical interface. The software does the heavy lifting with these systems, taking the basic information and sending the set up requirements to each node automatically.
Conclusion
IP/MPLS is no longer the only MPLS option available. We recommended that public service companies, transport systems and other industrial users, who may have been disappointed when exploring their packet-system migration alternatives, consider MPLS-TP. The feature set of this standardized protocol, accompanied by an effective network management tool such as SGRwin8, provides a comprehensive solution to replace any outdated SDH/SONET infrastructures in place.  In fact, MPLS-TP offers the efficiency of packet-based networks, in a system that is neither complex nor costly, all the while,  maintaining reliability, performance, power and user-friendliness