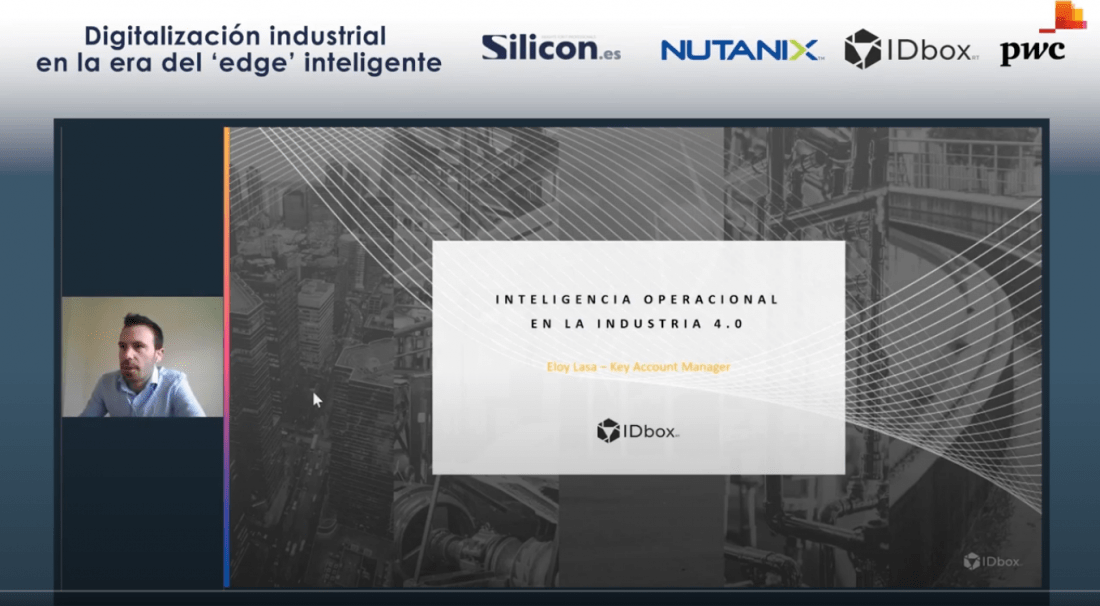 Last Wednesday, the 28th, our colleague from IDboxRT, Eloy Lasa, took part in an online event organized by Nutanix, where the keys to Industrial Digitization in the Intelligent "edge" Era were dealt with.  Operational Intelligence is key for decision making.  But so is managing data more efficiently, detecting problems and tendencies in real time; all issues that can give you competitive advantages in the industrial area.
Our colleague at IDboxRT was joined during the webinar by Alvaro Travesí of Nutanix and Gladys León of PwC.
In the webinar Eloy gave a brief introduction of what operational intelligence was, and then went on to talk about his experience with IDboxRT with regard to Operational Intelligence solutions.
Operational Intelligence is the capacity to process and analyse huge volumes of data in real time with the goal of bettering the decision making process with regard to production processes.
What Topics did Eloy Deal With?
Eloy said companies that want to invest in software related to Operational Intelligence should evaluate what the different software manufacturers are offering.  He established four key points that were essential in order to not just see short term results:
Flexibility with internal and external data intake on a same platform
Vertical and horizontal scalability on the platform
Adaptability to different businesses
Adoption of advanced technological concepts
After a brief introduction of our Operational Intelligence platform from end to end, from data collection to data exploitation, a short video was shown outlining the different functions the product has.  IDboxRT has been around for over a decade, but a new version with different functionalities will be out soon.
This new version has received more than just a facelift, but a complete platform  transformation has been done. All the original functions have been updated to meet the demands of the market, as well as adding some new functions. A more user friendly version, that will allow you to model functions from our web has been created. Eloy finished off the talk with some examples related to Operational Intelligence regarding energy efficiency, process optimization, preventive and predictive maintenance and OEE Optimization, all principal indicators in industrial environments.
After Eloy´s take on the bases of Operational Intelligence, it was Alvaro Travesi´s, Account Manager for Nutanix, turn to speak.  He spoke about the necessity for the modernization of industry and the development for new IT architecture, that will answer the inherent challenges of The Internet of Things and how a multi cloud hybrid infrastructure can be the answer, as it is more efficient and capable of reducing the complexities of managing and orchestrating all the resources that form part of an industrial ecosystem.
Alvaro pointed out what the infrastructure needs were, explaining different real cases where "Edge Intelligence" was necessary.  He also gave us some examples of interaction where the use of Smart Analytics had been used to control, manage and check quality. It was also adapted to predictive maintenance, where the goal was to reduce machine stoppages and even achieve "zero" stoppages.  Another example that was presented was that of image recognition, that allowed for error detection and security failures.
Alvaro also stressed the importance of Machine Learning in the retail sector, which can give a company an edge when it has to personalize its services for a client.  He also gave us other examples of the use of these technologies for the industrial world.  He chose the Oil & Gas industry and showed how these could better their oil and gas extraction processes. Some security simulations were also presented and Alvaro showed how the client could benefit from these technologies.
Some of the challenges and limitations that the industry faces as it transforms were also presented. Examples of these are the massive sending of data to cloud providers or CPD centres with limited bandwidth and the high transmission costs; both challenges that will be difficult to resolve.  Data processing in real time is another challenge that occurs when a problem arises and, therefore, one has to make a correct decision accordingly.  Another question is data security and complaints with all their different regulations.  The IT world needs regulations to guarantee personal data security, from end to end, as the IoT currently uses.
These limitations are what ultimately created Edge Computing, which slightly modifies the IoT model. Alvaro Travesi also delved into the Edge computing system, which is capable of taking all the  data intake from the sensors, and then processing them in real time, in order to facilitate the decision making process and not cut the flow of data to the cloud where the data can be housed and exploited for future use.
To end the session, Alvaro presented an example of the project that was made for Nutanix with the collaboration of other partners from the restaurant industry. He showed the enormous advantages it had for the client; as is increased satisfaction, cost reduction and an increment in business.
He concluded by highlighting the principal considerations one must take into account when thinking about modernizing one´s IT infrastructure.
The last session in this webinar was presented by Gladys León, Manager at PwC España, who talked about Operational Intelligence and its impact on the decision making process; one of its most important aspects.
Gladys gave us an overview of the current situation according to the data that PwC manages. She also presented the type of systems available in the market, the tendencies that they expect and how they will evolve and the benefits thatOperational Intelligence is expected to bring.
She talked about the business end and what the impact of these technologies have on businesses, as well as what type of businesses that could benefit from these technologies.
Gladys pointed out some numbers on the impact of these systems in various areas and sectors and how these technologies have impacted business.  She went on to describe what the most common challenges that businesses find are when they try to implement an operational intelligence system or to improve an existing system.  And, finally, what is the real impact that these systems have in the decision making process and in what direction are we going?
Gladys emphasized the endless possibilities that Operational Intelligence tools have.
"The most important thing is to be clear what you want to develop and how they (Operational Intelligence tools) are going to impact your business"
The most important challenge Operational Intelligence faces is the quality of the data it provides. It is useless to integrate tons of data, unless its use is well defined.  In order to do this properly, operational intelligence tools allow us to create processing modules to guarantee the proper use of the data.  
To sum up, Gladys spoke about the future of Operational Intelligence, pointing out that this technology has become a priority for Business Intelligence, as it is able to record your business data in real time and allows you to establish constant communication with your whole organization. It goes further than just visualizing and monitoring data, it allows you to apply more advanced techniques.
Business Intelligence can feed Operational Intelligence to give you a more precise vision of your operations.  Furthermore, OI can give you superior intelligence, in what we call Business Intelligence, combining operational data with business data to make more efficient decisions.
At the end of the webinar the three speakers answered questions and concluded:
"It is clear that Operational Intelligence is here to stay.  It is installed in industry, as we speak, and we have no other choice "Operational Intelligence systems contribute a great deal to Business 4.0.  Taking decisions based on data is an undisputed competitive advantage.  From PwC and its technological partners, we have focused on our objectives and to reach out to the client; it made a difference from the first second."to hop on the bandwagon and start using these types of initiatives. It is very difficult to compete in the current market if we don't use data to our advantage."

Gladys Leon
"It is clear that Operational Intelligence is here to stay.  It is installed in industry, as we speak, and we have no other choice than to hop on the bandwagon and start using these types of initiatives. It is very difficult to compete in the current market if we don't use data to our advantage."

Eloy Lasa
"IoT platforms are complex solutions with an urge to grow a great deal and, therefore, we have to find a way to implement them easily,  and to modulate them is key."

Alvaro Travesí